Robotics is a hobby for many people but believe us, it sounds simple , but it requires a lot of hard work and perseverance to get enrolled for the best robotics courses for kids in India in the best robotics academy to transform this hobby into a successful career.
Below explained are some tips to help you start your career in the field of robotics.
Read some good books & magazines: To understand the basics of robotics, buy some good books on it. Books always provide valuable information & help understand robotics in a better way. Also, subscribe to a good robot magazine because it will provide in-depth insight and will keep you updated about the development of the latest technology on robotics.
Understanding Electronics: The knowledge of electronics is very important because robotics do not work without electronics, however you do not need to be an electronic graduate, but must have proper knowledge about the basics of electronics for starters. You can refer any books or online material to enroll in robot courses in India, but as you move ahead in this field, having a basic foundation of electronics is a must. 
Connect with other people & read blogs: Connecting with other people who have the same hobby will always help you explore better options. You will not only get an answer to your queries, but will also get the opportunity to share experiences, where you can find mistakes to avoid. Join discussions, chat spaces, read blogs or join forums to share experiences and knowledge about robotics courses.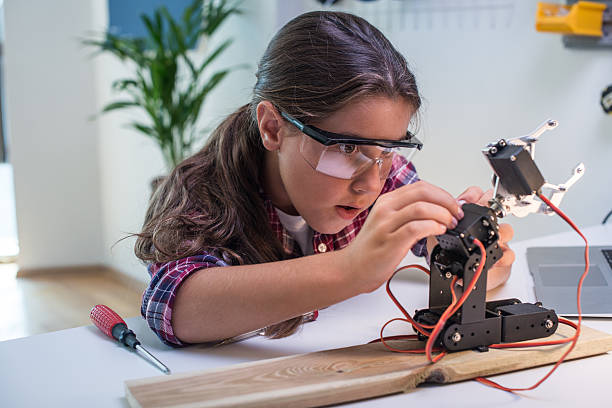 Join the contest: By joining the contest, kids will get directions to plan their robotics courses. Because any contest will enable you "to register" and provide you with all the "Do's & Don'ts" to give you a better framework for working with a certain taste and direction. This will keep you consistent and will require you to invest your time to gain proper knowledge about robotics. 
Be Consistent: Make sure you work on your course consistently, because sometimes the inconsistency might slow down your interests and will make it difficult for you to start the course all over again after a break of a few weeks and you might also forget certain things. Always document what you do, so you can have references available for long working ways. You can enroll into the best robotics courses but if you are not consistent, it won't be of much help.
Stay Ready For Big Investment: If you want to enroll into a good robotics course then, you need to make a big investment If you buy something cheap to save on costs then, you might have to invest extra time to correct things that can be saved by using top-quality material. The latest robotics courses for beginners are expensive, but it is an investment which helps you reap great returns with every passing day.
Robotics is very broad and requires continuous enhancement in your knowledge and growth due to the constant developments in technology with every passing day. So, for kids to stay at par with the latest technological advancements they must apply for the right robotics courses for kids in India in the best robotics academy.